Where to Shop For Your Boudoir Session (Victoria's Secret is NOT on This List!)
You are considering booking a boudoir session, or you already have, with me and my studio and chances are that now you are freaking out a bit. You may have never done anything like this before or this maybe your third or fourth time you have found yourself in my studio, either way one of the first big questions that comes to mind is "What the heck do I wear?!".
I get it.
Preparing for a boudoir session can be really daunting.
"…either way one of the first big questions that comes to mind is "What the heck do I wear?!".
Somehow preparing to wear less clothing is more challenging at times than preparing to be fully dressed!
Maybe it is because most of us are not used to frolicking around in nothing more than our unmentionables. Maybe it is because most of us don't have a professional photoshoot regularly scheduled on our calendar. Maybe shopping isn't something you feel like you are good at doing. Whatever your reason, I totally get it.
I already have a blog post all about what to wear to your boudoir session filled with links for shopping along with a bonus post about the boudoir outfit you already have in your closet, but I wanted to add on a little more!
Here are a few great shopping options that you can enjoy right from the comfort of your phone/computer screen.
Remember if you are ordering online for your boudoir session that you give yourself plenty of time to try it on and return if it doesn't fit!
(All of the following images were taken from the store's websites to give a visual example of some of their pieces. I did not take the photographs and do not claim them as my own. I am not receiving any kind of compensation from any of these brands for promoting their goods)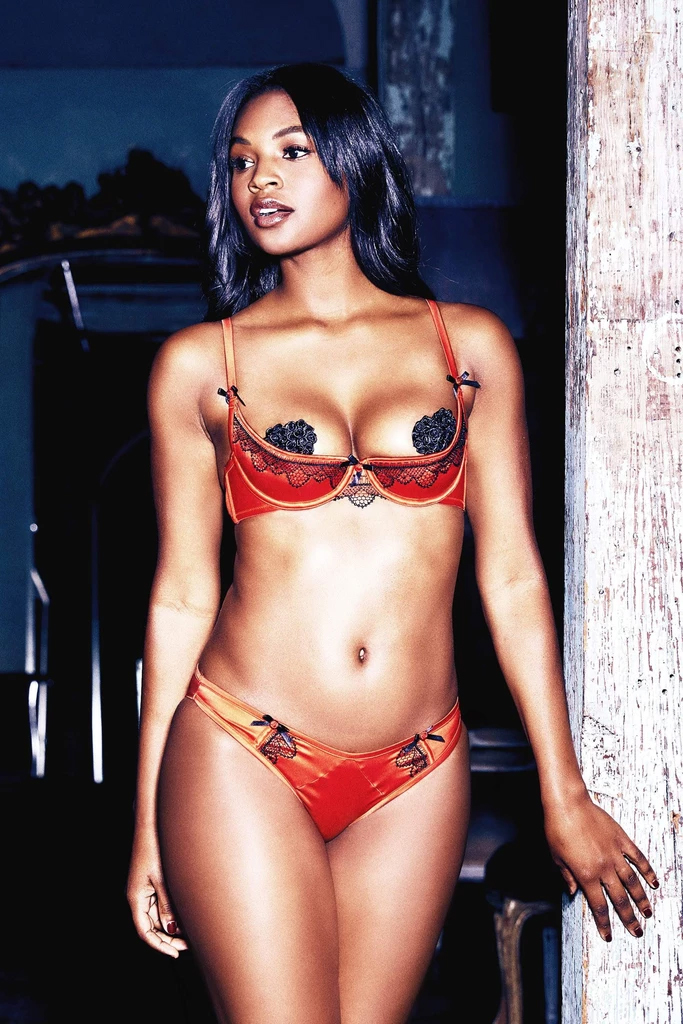 Playful Promises
Price Range: $$$
Website: https://www.playfulpromises.com/
Plus-sized Options: Up to size 26 and Cup Size H
This London based company has a great mix of sultry, sweet, playful, and provocative. You are sure to find several pieces to tickle your fancy as you browse through their website. They even have a Bettie Page inspired line for all you pin-up lovers!
Because this is an internationally based store you will want to make sure you order with plenty of extra time to make sure your package find your door before your session!
Shein
Price Range: $
Website: https://us.shein.com
Plus-sized Options: Up to 5XL
A great thing about Shein is that their prices are LOW. This is not investment lingerie so if you are just looking for something fun to wear for 15-20 minutes at your boudoir session this is a great place to shop. Their review section is useful as well as many of the shoppers input their actual measurements and describe the fit of the piece in relation to their exact shape. So break out that tape measure and get to shopping!
Plus standard shipping is FREE if you order over $50 of merchandise. Score!
Honey Birdette
Price Range: $$$$
Website: https://us.honeybirdette.com/
Plus-sized Options: Up to XL and H Cup
This luxury lingerie brand is ready and waiting to help you find your wild side! These pieces are feisty, fierce, and even potentially dipping into fetish territory. Honey Birdette's style definitely caters to that ultra-glamorous Hollywood style vibe so get ready to get glamorous!
Bluebella
Price Range: $$$
Website: https://www.bluebella.us/
Plus-sized Options: Up to XL and H Cup
Another beauty from across the pond, Bluebella is all things delicate lace and dainty details. The refined, demure style is perfect to pamper your inner princess. Even their racier items still have a hint of sweetness to them.
Again these items will be shipping from overseas so make sure you allow for plenty of time for them to arrive!
Mentionables
Price Range: $$
Website: https://shopmentionables.com/
Plus-sized Options: 2XL and up to DD Cup
For all you ladies out there who cannot get enough of Mad Men, Audrey Hepburn, and that old-school Hollywood charm: Mentionables is full of that vintage vibration. From silky rompers to lacy one pieces in faded blush and aqua tones you are going to want to pull out the pearls and gloves the second you start shopping this site!
La Pearla
Price Range: $$$$$
Website: https://www.laperla.com/us/
Plus-sized Options: XL through D Cup
Classic lines and impeccable craftsmanship sets La Pearla apart from many other lingerie manufacturers. If you are looking to splurge on top of the line creations with authentic french lace details and hand made details then this is the place for you!
Gooseberry Intimates
Price Range: $$$
Website: https://gooseberryintimates.com/
Plus-sized Options: Up to 3XL
Where are my boho babies? This lingerie and swimwear shop was created JUST for YOU! Free spirited designs fill these pages and are so pretty you will want to post all of your pics on instagram when you are done! This adventurous lingerie is almost too pretty to cover up!
Savage x Fenty
Price Range: $$
Website: https://www.savagex.com/
Plus-sized Options: Up to 2XL and G Cup
Rhianna, queen of pop music, has stepped into the world of intimates with offerings in many sizes, colors, and levels of coverage at affordable prices. If you are looking for some great basic pieces just to have or want to keep your boudoir look understated and simple this is absolutely the place for you! Go show Rhi Rhi some love.
Hopefully you found this guide helpful and it left you feeling inspired for your session and/or introduced you to a few new options for online shopping.
Which shop do you love the most? Tell me in the comments!